Bradford finally announces surgery plans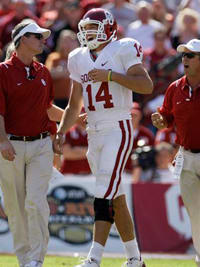 As SoonerScoop.com first reported last Wednesday,
Sam Bradford
will have season-ending surgery on his right shoulder. Bradford made a statement through the university on Sunday, which finally confirmed the initial report.
Bradford cancelled a news conference just two hours before it was to take place following the initial report by SoonerScoop.com and another similar report by ESPN.
Speculation that began after the cancellation was put to rest this afternoon.
"I dreamed about coming to Oklahoma my whole life," Bradford said in a statement. "That's the reason I came back for this season. And I came back to play, not sit on the bench. That's the reason I tried to play after the injury. I'm very disappointed that it didn't work out differently."
Our initial report stated Alabama's Dr. James Andrews would perform the surgery on Tuesday, but the date has been pushed back one day to Wednesday.
"Under these circumstances, and after talking to several people, this is the right thing for me to do at this point," said Bradford.
It also appears Bradford has come to terms with leaving his career at Oklahoma behind. The university stated in their release that Bradford has every intention of declaring for the NFL Draft as long as the recovery process goes as expected.
"I'll be up to the challenge," said Bradford.
"We want Sam to pursue the best option for his recovery and future,"
Bob Stoops
said in his statement through the university. "We obviously feel this is best for his long-range future."
The surgery will end Bradford's career at Oklahoma, a career that saw him collect a Heisman Trophy and numerous all-time passing records at OU.
"Sam has led us to two Big 12 championships and an appearance in the national title game, and has demonstrated uncommon leadership skills," said Stoops. "He is an absolute role model as a student-athlete and loyal teammate.
"We appreciate the incredible contributions he has made to this program and university."
The Sooners will now turn to Landry Jones to lead their offense. On Saturday, Jones completed 26-of-38 passes for 252 yards in a 35-13 road victory over then No. 24 Kansas.