Cobb Moves North
To say that Waco La Vega four-star cornerback, and Semper Fi All-American, Parrish Cobb has had an interesting journey to Norman would be a mild understatement. A little shy of 11 months since the nation's No. 131 overall player in the 2016 class, and No. 12 cornerback, originally committed to Oklahoma he has signed with the Sooners.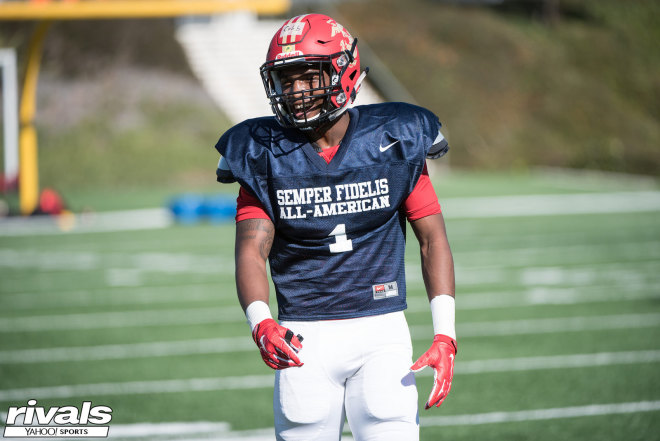 Cobb pledged to Oklahoma after returning home to Waco following an unofficial visit to Norman last summer. He seemed as solid as any commitment in the Sooners class as he led his La Vega team to it's first ever state title - sealing their title with a huge game-saving tackle in the games dying moments.
He then reported to Los Angeles, Calif. for the Semper Fi All-American game where he put on a strong performance and forced his way into the Rivals250.
Almost immediately upon returning home from Southern California rumors began to swirl that he was starting to think more and more about staying home in Waco and playing for Big 12 rival Baylor. On Feb. 3 he made it official and announced his commitment.
It seemed at that point the story was written but it was stories written about the Bears football program and the problems within it that forced change.
As the Baylor rape scandal began to engulf the program and eventually forced out head coach Art Briles, Cobb and numerous other Baylor signees decided to request their release from their letter of intent with the university.
Last week Baylor granted that release and the hunt was on with the Sooners missing out on a few other former Bears signees Kerry Cooks and Chip Viney locked onto a player who was once long-expected to be part of their 2016 defensive back group.
Then on Friday afternoon word leaked out that Cobb had signed with the Sooners with word that he'll be in Norman in just a few days time.
It wasn't how Oklahoma, or even Cobb, might have drawn it up but the Sooners have landed the No. 17 player in the state of Texas while hurting one of the Big 12's primary contenders.