Delance Gets his Chance to Clear the Air in Norman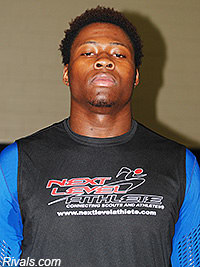 He may have already been committed to the Sooners but few players held more intrigue in what their visit could mean for Oklahoma's class of 2016 than Mesquite (Texas) North Mesquite Rivals250 offensive tackle
Jean Delance
. On Saturday the 6-foot-5, 270-pound Sooner pledge made his first trip to Norman, for the Sooners first junior day event, since becoming of the hottest offensive line commodities in the country.
"I was up there in November. This trip was my third time," Delance said. "It was a really welcoming environment. They really laid out the red carpet; they made sure I knew that they wanted me there. They want me to get there, they made me know I'm a big need."
Since his last trip to Norman Delance has had the chance to see other college campuses and that reality changed the lens from which he looked at Oklahoma.
"From then and now, you know everybody is going to lay down the red carpet, they aren't just going to let you come in. They are going to try and show you their best. Try and get you in the one on ones," he said. "That's just a given right there, you know that's going to happen. I know they are going to try my best and other schools are going to get me to flip. OU is doing everything they can to get me to not flip."
With that conversation on the table the Sooners weren't shy in talking to Delance about the current standing of his commitment - a topic that has been greatly bantered about. It's something that Sooner head coach
Bob Stoops
went straight to the source to ask about.
"It was a lot of one-on-one time with coach
Bill Bedenbaugh
and coach
Lincoln Riley
, they got me all the way back to the car. Spent some one-on-one time with coach Stoops. I had a lot of one on one time with the head coach at every school but it was good talking with him," he said.
"I was impressed, he was saying 'hey big man, you still committed?' I told him 'you know it'. I don't want them to think otherwise.
"He sat down with my mom. He was telling her how much of a big piece I am to the class of 2016."
Not surprisingly Delance's mother had a lot to say about what was, in fact, her first trip to Norman.
"She thinks good things, she wants to get down here too. The first time she didn't come with me, so it was her first time. She really liked how much they explained they needed me and would treat me like her own son," he said.
The nation's No. 12 offensive tackle says that though he remains committed to the Sooners he will continue to listen to overtures from other programs and is quite sure he'll take some more trips. That being said, the trip to Norman was a big positive for the Sooners recruiting efforts.
"I may just reach out to those who reached out to me before they got to have that strong connection and I committed. I respect what they did for me," he said. "(This trip to Norman) very much helped their cause, that was my second time to get back to Norman. It made me feel better about things."
A big aspect of the weekend for many of the visitors was the chance to watch Oklahoma's spring practice and though Delance didn't get that opportunity he came away from Norman glowing with positives about the Sooners. That being said, there was one aspect he finds a bit concerning.
"I didn't even get to make the practice, I know how many tackles they have and I put that into consideration too. You've got to be honest with yourself. Those guys are going to be sophomores by the time I get up there. So some of them will be a junior, that's a big aspect of my recruitment.
"That's something to look out for, that's a hurtful thing. That's a major downside.
"Basically it is, how many tackles they have - you have to be realistic about it."