Manyang gives Kruger legit big man with commitment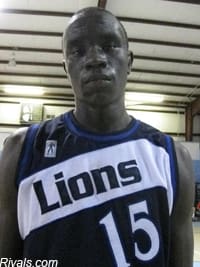 Oklahoma landed a commitment from one of the top junior college players in the 2015 class in the country on Father's Day.
Indian Hills Community College 7-footer
Akolda Manyang
made his decision on Saturday night and informed Oklahoma's coaching staff on Sunday morning that he wanted to be a Sooner.
"Last night he just told me that was the right thing to do," said IHCC coach John Wardenburg. "It's good. I support him 200 percent."
Manyang, who is the cousin of former 6-foot-11, Sooner center Longar Longar, has been a priority for OU for some time. He led IHCC to the NJCAA national title game and a 34-3 record this season.
The Sooners' attention to detail ultimately helped them beat out the likes of Arizona State and Minnesota, among others, for his services.
"I think the fact that he's very comfortable with their coaching staff was great," Wardenburg said. "They've done a fantastic job of recruiting him. He tried to build a relationship with coach [Lon] Kruger, and he's got that."
In 31 games last season, Manyang averaged 8.5 points and 5.7 boards while shooting 57 percent from the floor. But those numbers don't fully show Manyang's ability.
"At 7-foot, 250, he's got a tremendous body, but I still think he has room to grow," Wardenburg said. "He's a good shot blocker, but I think he has a nice set of offensive skills that are getting better and better. He can score inside and out. He's got good touch from 15 feet and in."
OU's coaching staff has spent the last year adding depth at the post. First it signed three big men who are enrolled in classes this summer, and then the Sooners successfully lured one of the top transfer targets in the country in TaShawn Thomas to Norman.
Kruger and his staff recognized their weakness in the post last season. Even with leading Big 12 rebounder
Ryan Spangler
underneath the basket they still lacked the bodies to play with stronger and taller teams.
Manyang will give the Sooners another post player to help bolster a backcourt that has thrived in the
Lon Kruger
era.
"He's a 7-foot kid, about 250 pounds and his best days of basketball are ahead of him," Wardenburg said. "He can step out and shoot it a little bit, rebounds and runs the floor well.
"I believe he will be or is ranked if not the top junior college recruit in the nation this year he's at least in the top five. He's for sure the best post guy in the nation."