National Signing Day: Sooner GIFt Opening
As the Oklahoma winter continues its slow slog into spring, college football flashes back into the national spotlight with one final aftershock before the beast retires to hibernation once more - national signing day.
Signing days have traditionally been a time when Sooner nation examines the new crop of young athletes on their way to Norman. Unlike signing days of generations past, however, in 2016 we have GIFs. And GIFs are a wondrous invention that allow us to examine the infinite within a moment. In sports, and more specifically football recruiting, GIFs provide a magnifying glass to even the tiniest of details that separate an elite prospect from the ones that turn out to be sports writers.
With that in mind, let's use the GIF medium to break down Oklahoma's football recruiting class of 2016.
This looks like a simple play, but I think it highlights a lot of the skills Adams brings to the table and how easy he can make it all look. The ball comes behind him and high, but he does a great job adjusting to the ball and making the catch. After he makes the grab he immediately is under control, locates the defender he needs to make miss, and uses his speed to beat him to the sideline. Most guys' momentum would take them out-of-bounds, but you can see Adams' quick feet break down, under full control, and turn upfield. The defender coming at full-speed barely can get a hand on him before he reaches the end zone.
Beal is a guy who puts a lot of pressure on offensive tackles to protect their outside shoulder due to his ability as a speed rusher. When you're 6-foot-2, 215 pounds, becoming an agile moving target is to your benefit and watch how Beal utilizes a subtle right shoulder dip that provides something more narrow for the blocker to hit than he's used to. The Oklahoma linebacker signee meets the quarterback in just seven steps because he's able to turn the corner immediately with a nice lean.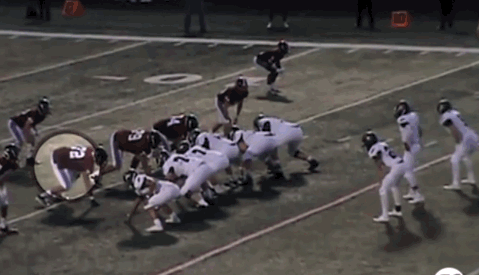 One thing that's easy to love about this play, and it is a perfect representation of what can make Bledsoe so special, is the raw power and explosion he contains within that 6-foot-5, 272-pound frame. Relying on more force than quickness, watch as Bledsoe essentially winds up with his left arm to create as powerful of an initial punch as possible to not only win the point of attack, but explode through it to blow up the play for a loss. A bonus is the glimpse at Bledsoe's upper-body strength as the running back meets the Sooner signee with as much resistance as a little brother in a backyard football game.
There is some debate as to where Doucet where end up exactly in the Oklahoma front. He's listed as an outside linebacker, but could wind up on the inside with Tim Kish instead. Either way, Doucet will rely upon his speed to set him apart tracking down plays along the line of scrimmage. The 6-foot-2, 225-pound linebacker possesses sideline-to-sideline speed, and this play is an illustration of how that quickness and burst can blow up a play. Clearly this is an athletic quarterback, who makes the first man miss, but we're never allowed to find out if there was a line to run as Doucet arrives through a pure speed rush on the backside. Running around an offensive tackle on the other side of a play to chase down an athletic ball-carrier in the backfield is not something you see every day.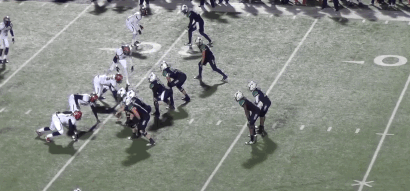 This play so perfectly encapsulates everything Farrar brings to the table at wide receiver. In a day in age where so many guys have highlight camp videos of routes with five or six moves that would never happen in a real game, Farrar knows how to quickly and shrewdly creates space for himself. At the snap, he hits the corner with one quick jab step inside to generate room along the sideline for the quarterback to make a throw. As the route develops, the defender attempts to force Farrar to the sideline to void said space, but Farrar's strong enough to hold his ground long enough to utilize his 6-foot-3, 210-pound size on the outside to make a well-timed jump and acrobatic catch.


Hardy's athleticism forced his coaches at Dekaney to make the decision to get the ball in his hands on every snap, as he played quarterback for much of his high school career. It's easy to see why Lincoln Riley and the Oklahoma offense are willing to take a chance on the Houston athlete at wide receiver. An overlooked aspect of this jaw-dropping run amidst the elusiveness and burst is Hardy's balance. It doesn't matter how fast or athletic you are if it's not grounded in a foundation of balance.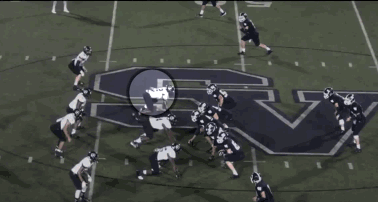 Mark Jackson is one of the guys that just plays with one of those intangible extra gears that just pop, even through one simple GIF. The right tackle just has no chance here. You can see the inside linebacker coming on a blitz through the A-gap, which the tackle can see, and Jackson gives him a tiny flinch inside that is just enough to get the offensive lineman guessing there's an all-out inside blitz coming. The blocker lunges to his left after seeing Jackson jab with his right foot and that clears the stage for the Oklahoma pass-rusher to showcase his quick hands, feet, and explosion to make the sack.
Jones is such a smooth receiver when he's allowed space to move. His high school does a great job using him in motion to start the Rivals100 receiver's momentum before the snap. Jones is shot out of a cannon, given the free release, and quickly finds the proper depth for the window over the middle and then the safety has no chance in the open field once he hit him with a stutter-step that would make King George VI blush.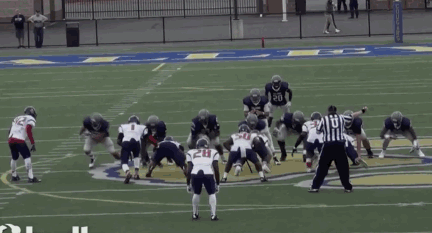 Ashton Julious' colossal 6-foot-8, 330-pound frame, makes it difficult to evaluate him, because there just aren't many human beings of that size to compare him against. As one can imagine, being that size allows Julious to overwhelm just about anybody within his immediate proximity. This play is important because it at least shows it's possible for Julious to play on the move and get to the second level if need be. The GIF also let's you appreciate the effortless strength the JUCO transfer contains as a slight shove moves the linebacker ten yards outside the hash.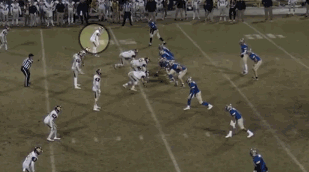 Kelly is such a force as a pass rusher with his size, speed, and explosion, that when he times up a blitz this perfectly it's not even fair. The tackle actually does a decent job kicking out to not allow the 5-star linebacker to have the edge. However, in his zealous to do so, exposed an inside rush lane that Kelly spins into and without breaking stride and chases down the quarterback. Don't let Dwight Freeney spoil you - that spin move is not easy to pull off under control at full speed.
Kendall was a prolific passer at Waxhaw (N.C.) Cuthbertson in a wide open offense whose concepts should translate well when adapting to Lincoln Riley's system. However, one of the only major concerns with the Rivals100 quarterback hasn't been with his production, but with his unorthodox three-quarters throwing motion. There are much longer plays on the nation's No. 4 pro-style quarterback's reel, but in this particular GIF you can tell that even though it's a quick read for Kendall, he still makes sure to use proper footwork and create a solid base for himself. This allows him to still pronate the wrist in order to get the nose down behind the linebackers and in front of the safeties. If that motion was causing problems, his elbow would've remained below the ball, forcing it to sail dangerously over the middle. Instead, it's a 25-yard completion.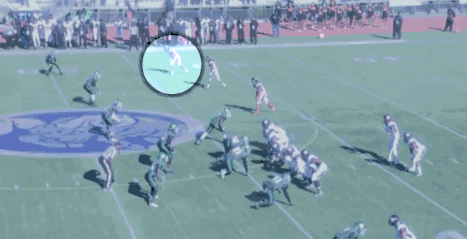 It's important to remember with Motley that he has the athleticism, speed, and ball skills to play wide receiver at the next level. However, at 6-foot-1, those skills are much more of a commodity at cornerback than they are on the offensive side of the ball. Those skills that make Motley so successful at receiver are transferrable to defensive back; most notably, his quick feet, balance, and ability to track the ball in the air. How often was Oklahoma cornerback Jordan Thomas praised for his ability to remain under control and make a play on a contested throw? In this GIF, you can imagine making this same play except as a member of the secondary and possibly forcing a game-changing turnover.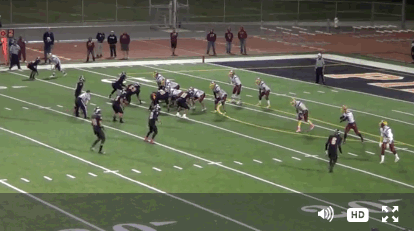 There are plays that showcase Parker's great ball skills more, and there are instances where you can see what a threat the 4-star is with the ball in his hands, but in this GIF you get a clear look at how his athleticism will handle a concept he'll likely see all the time in the Big 12. Parker, a high school wide receiver himself, recognizes the screen quickly and diagnoses the spot he needs to get to in order to blow up the play. He shows some self-awareness to use his agility to get around the blocker, rather than try to ran through him, and almost beats the intended target to the ball.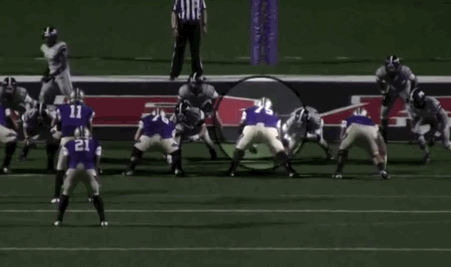 Powers has the potential to be a mauler at guard with his strength. He's at his best when he stays low in his stance and explodes with a terrific punch. That initial strike at the point of attack often wins the battle before it even begins with the neutralized defender. The massive JUCO offensive guard is at he stays low, explodes with an initial punch, and then shows off that nasty streak.
This GIF is all three of those things in sequential order. Stays low. Good punch. Nasty.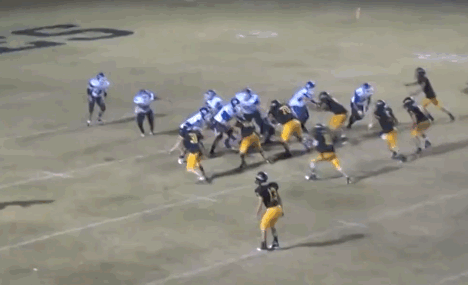 Someone asked me to describe Roberson after I had the chance to watch him against Tecumseh this past season. The best answer I could give them was, "He's really good at hitting the snot out of the guy in front him."

To which this Oklahoma fan responded, "Sounds good to me."

What's great about this GIF is it showcases Roberson out in space and he looks natural tracking down a guy that probably weighs less than his torso. The concern for the 318-pounder is that he may lack the athleticism to excel at the next level and he quiets some of those concerns here.
Swenson is at his best when he can get his hands on a defender and into his frame. At 6-foot-5, 300 pounds, it's not particularly easy for defenders to navigate themselves around the Rivals250 offensive tackle, who has room to add even more good weight, and once Swenson's paws are you it's over. As you can see, the No. 2 prospect in the state of Illinois has a bit of a mean streak as well.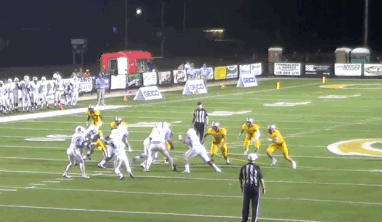 This is a play with a great visual of the importance of a sure-tackling safety on the back end. If Sylvie doesn't make this tackle, just look at all of the room the receiver has to run. However, the nation's No. 41 safety lives up to his position's name sake by providing a stiff last line of defense. When given the opportunity, Sylvie is not afraid to put a highlight reel hit on somebody, but his physical nature manifests itself more in the fundamentals of football on this tackle. He breaks down in an athletic stance, without being caught flat-footed, which allows him to explode out and make the tackle after a nice cut by the ball-carrier.
No. 53 on offense actually begins this play thinking he's shielded Jon-Michael Terry from getting outside, but at no point is the new Oklahoma linebacker signee ever annoyed by his presence. He sheds the block and tracks down the ball-carrier moving at full-speed off of the jet sweep. It's an impressive display in athleticism for a guy of Terry's size to be running step for step with skill position players. From this GIF, it can be induced that JMT can handle the duties of tracking sideline-to-sideline as an inside linebacker at the next level.
Watching this play, and the ease with which Valentin moves, it would be easy to assume he's a smaller, more athletic guard. That is, until you watch that poor defender freeze like a deer in front of a freight train. Director Alejandro Iñárritu actually used this GIF as inspiration for the bear attack scene in The Revenant.