New OU network garners NCAA infractions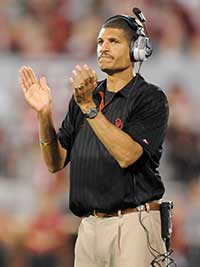 The University of Oklahoma athletics department's attempt to bolster its brand through television over the last year has not come without hiccups.
In a pregame show for the athletic department's television network, Sooner Sports TV, former Oklahoma assistant coach Chuck Long was allowed to appear as an analyst. Because Long worked as a volunteer coach at Norman High School where his son, Zach Long, was starting quarterback during his Sept. 1, 2012 appearance, the action is considered an NCAA secondary violation. Zach Long has since decided to walk on at Oklahoma.
Six days later, Edmond Soccer Club coach Mo Boreham, worked as a commentator for Sooner Sports TV during an OU women's soccer game against Oklahoma State, and he appeared once more on Sept. 9, 2012 as a broadcaster for OU's game against Oral Roberts. These were also considered secondary violations because Boreham, like Long, were both ineligible to be a part of Sooner Sports TV broadcasts because NCAA bylaw 13.10.3 prohibits high school coaches from participation in radio or television broadcasts.
These violations and others were obtained by SoonerScoop.com in a 264-page document through an open records request. The documents detail 12 months of secondary violations reported by the University of Oklahoma's compliance office between April 1, 2012 and April 1, 2013.
SoonerScoop's request asked for correspondence involving the school's athletic compliance office, Big 12 Conference and NCAA. The correspondence described secondary violations in 35 reports across 12 sports submitted by the University of Oklahoma's compliance office.
The names of recruits and student-athletes in these documents were redacted by the school. Some universities cite the Family Educational Rights and Privacy Act (FERPA) as reason for blackening the names in records requests, which protects student-athletes.
The violations involved illicit text messages, phone calls, tweets and Facebook messages to recruits in most reports. The school imposed restrictions on the offending party for a period of weeks for most infractions.
15 reports of violations involved current or former football coaches or staff members, and 14 reports involved non-revenue generating sports. Three reports involved men's basketball coaches or staff members, and three reports involved baseball coaches or staff members.
Former NCAA compliance officer John Infante said these numbers are about average over the course of a year.
"I would say at a BCS institution anything from 10 to 60 (secondary violations) wouldn't really raise any kind of red flag," Infante said, who is also proprietor of the Bylaw Blog.
An NCAA secondary violation is defined as:
"An isolated or inadvertent violation that provides (or intends to provide) only minimal recruiting, competitive or other advantages. A secondary violation does not include extra benefits or any significant recruiting benefits. If an institution commits several secondary violations, they may collectively be considered a major violation. Secondary violations occur frequently and are usually resolved administratively."
The Commercial Appeal reported Ole Miss internally found 44 secondary violations had occurred involving its athletic department coaches or staff over the course of a year.
Alabama reported 27 violations over a 13-month period, according to the Associated Press. In May 2012, Ohio State reported 46 violations across 21 sports over nearly a year's time, according to the Cleveland Plain Dealer.
Though they sometimes seem tedious, reporting secondary violations are meant to curtail major violations.
"I think even a lot of people in the NCAA � would agree that these (secondary) violations are inconsequential and not what we should be focusing on," Infante said. "Not what the NCAA should spend time on or that the schools should be punished for making mistakes."
The NCAA nearly pushed through January legislation -- part of its effort to deregulate -- allowing coaches to make unlimited phone calls, text messages and mailings year-round to recruits. This proposal has since been suspended, and Oklahoma football coach
Bob Stoops
was one of many coaches and administrators to speak out against the proposal.
NORVELL NEARLY SUSPENDED FOR TWEETS
According to letters between the school and NCAA,
Jay Norvell
faced a one-game suspension for accidentally sending nine illegal tweets, six of which constituted written scholarship offers.
Direct messages, which are private communication between a coach and recruit on Twitter, are permitted under NCAA rules. Tweets, which are a form of open communication, are not.
Norvell's tweets are secondary violations of NCAA rules, and the school self-reported them. The Associated Press was to first report Norvell's rule-breaking.
The OU's compliance department stated six of the tweets held "written offers of financial aid to juniors, which was prior to the permissible date in which an institution can provide written offers of aid to prospects."
The NCAA doesn't allow written offers to recruits until August 1 of his or their high school senior year. Norvell didn't realize a tweet could be construed as a written offer under NCAA rules.
The school asked him to write a letter describing the rule against early written offers to each of the six recruits, and he did. The school also imposed a sanction on the OU football staff, limiting correspondence to each of the six recruits for two weeks.
The NCAA wanted a more stringent punishment.
While the NCAA admitted Norvell's violations were secondary in a letter to the school, it said "the institution should be required to suspend (Norvell) from all coaching-related activities for one contest. In addition, the institution should be required to reduce the number of in-person, off-campus recruiting contacts with (recruits) by two."
Under NCAA rules, OU was allowed to appeal the NCAA's decision to suspend Norvell for a single game to the Division I Committee on Infractions.
The school filed a 30-page appeal, dated Oct. 23, 2012, which provided several items of evidence, including news articles citing other schools with similar violations and the actions taken against them by the NCAA.
In a Dec. 5, 2012 letter, the NCAA dropped its suspension of Norvell but upheld all other sanctions against OU.
"In addition, please note that future similar violations will result in the suspension of coaching-related duties for one or more contests," the Dec. 5 letter states.