OUs Buddy Hield wont back down from challenge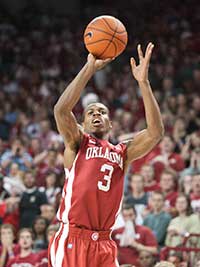 NORMAN, Okla. -- Blake Griffin wanted a challenge.
He wanted
Amath M'Baye
to try to block his shot, someone similar in size, stature. M'Baye said no.
"I got too much pride for that," he said.
Understandable. Griffin leaps tall men in a single bound. He's made many a poster out of unwilling accomplices in game-time and playground situations.
Nobody wanted any part of the best basketball player Oklahoma has ever produced that day, a 6-foot-10, 250-pound NBA All-Star. Nobody except
Buddy Hield
.
SCOOPHD: EDDIE RADOSEVICH SITS DOWN WITH BUDDY HIELD
Hield volunteered to step underneath the basket and leap with the 2011 NBA Slam Dunk Contest Champion.
"That's a freshman mistake," M'Baye said.
Griffin accepted Hield's challenge and took his position at the baseline. Players and staff surrounded the north basket with camera phones at the ready.
He dribbled four times and launched into the air with two steps. With the ball squeezed in the palm of his right hand, Griffin engaged Hield.
Hield dodged the onslaught to come after figuring out, midflight, he had no chance. He shifted his body around Griffin and landed with a loud laugh.
"He just climbed a monster that day and lost,"
Sam Grooms
said. "I didn't think he had a chance anyway. I thought it was over with when he first tried to stand underneath the basket and challenge him. I don't understand why he even tried that."
Kyle Lindsted does. It's the reason he left the country to recruit Hield to play for him at Sunrise Christian Academy in Wichita, Kan.
A TRIP DOWN SOUTH
Chavano Rainier "Buddy" Hield was a sophomore in high school when Lindsted first saw him at a showcase for young ball players in Freeport, Bahamas. Hield was a skinny 6-foot-1 kid then, but he had a pure stroke, brilliant scoring sense and a nose for the basket, even in middle school.
Hield didn't play basketball seriously until seventh grade.
Before basketball became a focal point in his life, he was a track and field athlete, specializing in the middle distances, until he learned he was good at this basketball thing.
"The first year I played I started on a JV (high school) team," Hield said. "People were like, 'Seventh grade and you starting on a JV team? You probably be good, you know?'"
That's what Lindsted thought, too. He regularly takes business trips to Freeport to look for the type of ball players who fit his program. Hield was one such player but not for plain reasons at the time.
It wasn't Hield's athleticism and ability to score that attracted Lindsted to him. By Lindsted's account, Hield wasn't one of the more skilled basketball players at the showcase.
The trait he was most enamored with was Hield's energy, his magnetic presence. Where Hield walked, the masses followed.
"Wherever he was in the gym, there was always a crowd of people around him," Lindsted said. "He was always making them laugh. It was his personality and all the little intangible things that he did."
Not long after the showcase, Lindsted asked Hield if he'd be interested in attending Sunrise Christian. Normally, this kind of exchange -- a recruiting pitch -- is laced with promises and flattery.
Lindsted said it wasn't like that at all between Hield and him. There was a relationship between them that usually takes coaches months, if not years, to establish with players.
"We had a conversation, and it was like we'd known each other our whole entire life," Lindsted said. "That's just how flawless it was between Buddy and I."
Hield's mother sent him away with simple and powerful advice, advice he's held onto through his first season as a Sooner.
"She always said read the Bible," Hield said. "Never lose your faith, and never forget where you come from."
BUDDY BUCKETS
By the time Hield stepped on campus at Sunrise Christian, he'd grown to 6-foot-3 and gained 30 pounds without losing any of his quickness or agility. Couple Hield's physical maturation with his constant desire to shoot in the gym, along with an abundance of energy, and his scoring averaging of 22.7 points in 21 minutes as a prep senior isn't tough to believe.
It also isn't tough to believe Lindsted had a hard time slowing him down. So hard, in fact, Lindsted had to be conscious of just how much time Hield spent in the gym.
"He's the kind of kid that we would go hard for three or four hours in the gym, and he would spend two more hours just getting up shots and working on his game," Lindsted said. "He's almost a kid you'd have to lock out of the gym to get him to rest at all."
That's the kind of drive it takes to become a Rivals top 100 recruit. That's the kind of work ethic that allowed Hield to lead Sunrise Christian to a National Association of Christian Athletes national title as a junior and 24-4 record.
That's the kind of discipline that receives recruiting attention from Colorado. From Kansas. From Oklahoma.
Of those three, Kansas seems the obvious choice for a basketball player -- especially one who played high school ball in the Sunflower State. Jayhawk basketball is as rich in tradition and committed to winning championships as any program in the country.
So why turn down Kansas men's basketball coach Bill Self if he offers you a scholarship?
"We chose OU because we knew Buddy was different," Lindsted said. "We knew Lon [Kruger] would let him go up and down the floor, and I also knew that it was going to be tough on Buddy. There would be transition period that he's going through right now."
If Hield becomes the kind of player many in and around the program believe he can be, it'll be because he displayed the same confidence that caused him to call out Blake Griffin. Believe that.
"I'm not afraid of anybody," Hield said.