Pick 6: Getting to know the Sooners at Media Day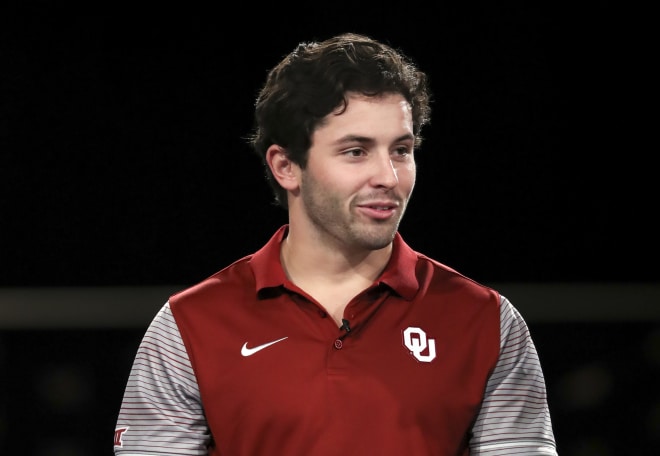 During their run through the gauntlet of Big 12 Media Days, Oklahoma representatives quarterback Baker Mayfield, running back Samaje Perine, safety Ahmad Thomas, and linebacker Jordan Evans found themselves amidst a sea of questions regarding intangible characteristics such as leadership and expectations.
These are tenants of the college football offseason, part of the fabric of fanhood, and not to be sneered at.
However, it seemed a void was left for the less flashy tangible information. Since football games are still over a month away, the only definitive answers players can give at this time generally regard off-the-field interests, which can provide insight into the man - and therefore the football player.
So SoonerScoop.com decided to play a little 'Pick 6' with the Sooner football player spokesmen about life outside of sports, the locker room, and which newcomers are garnering the most buzz.
1. Which OU football player is the best follow on Twitter?
Ahmad Thomas: "Steven Parker, because he retweets a lot of funny stuff. What he retweets, it kind of matches his personality."
Jordan Evans: "Steven Parker, he retweets a lot of funny videos."
Samaje Perine: "That's hard for me, because I only get on it every once and awhile, but I'm not really on it that much so I don't know what's going on in the Twitter world."
Baker Mayfield: "Ty Darlington still. He's obviously not playing with us anymore, but he tweets out stuff like he should be the president. He gives some good opinions on there."
2. Favorite coach to hang out with outside of football?
Ahmad Thomas: "Coach (Kerry) Cooks, because he's - I want to say young, but he's not young - he just understands us more because he has children around our age. It's easier to connect."
Jordan Evans: "Coach (Kerry) Cooks is a cool dude."
Samaje Perine: "Coach (Lincoln) Riley, because his wife can cook. She makes great enchiladas and the best dessert. I forgot what it was, but it was so good."
Baker Mayfield: "Tim Kish or Bill Bedenbaugh. They're just different - they're a little wild. They make it interesting. If you can get Bill Bedenbaugh to laugh, it's a good sight to see, so I enjoy making him laugh."
3. Favorite place to eat in Norman?
Ahmad Thomas: "B.J.'s. I love the jalapeño burger."
Jordan Evans: "There's a place called the Greek House. I'm not going to go into details, just go to Norman, ask where the Greek House is, and have yourself a good time."
Samaje Perine: "Hideaway Pizza. I create my own. I put all the cheese on there and bacon."
Baker Mayfield: "Tarahumara's. Mexican food place. It's the best. Charleston's is a close second."
4. Favorite thing to do outside of sports?
Ahmad Thomas: "I like to play video games. Usually I play Madden, but I'll play Call of Duty. And if I'm not playing a game, I'm cleaning my car. I like cleaning all the time."
Jordan Evans: "I'm the king of 2K. I'm a hooper. Really any activity I'm the best at, you know how that goes. I'll talk trash at video games, actual basketball, whatever. I'm not going to lie they can take me, but I'm going to keep talking like they can't."
Samaje Perine: "Watch Cops. I watch Cops more than I watch sports. I always watched Cops and wrestling with my granddad when I was little and I just never stopped watching Cops. I kind of stopped watching wrestling, but Cops stuck with me."
Baker Mayfield: "I like to hangout with my friends, family. I just kind of relax. Nothing crazy. Spend quality time around the people I normally can't do it with."
5. Who is the funniest guy in the locker room?
Ahmad Thomas: "Neville Gallimore. He's just a character. He does impression of rap artists. His best impression is Fetty Wap."
Jordan Evans: "Dede Westbrook."
Samaje Perine: "Dede Westbrook, I would have to say."
Baker Mayfield: "Dede Westbrook, absolutely. He doesn't take too much very seriously. It's good to have him. You an always hear him - he's like the new Eric Striker. He's not as loud, but he makes it fun."
6. Who is the most impressive new guy on campus?
Ahmad Thomas: "Parnell (Motley), the cornerback."
Jordan Evans: "We've just been doing workouts and pass skels lately, so it's hard to truly determine it. But I've been hearing that young DB Parnell Motley is doing pretty well and the receiver Mykel (Jones)."
Samaje Perine: "The receiver Mykel Jones, he's going to be pretty special."
Baker Mayfield: "Mykel (Jones) is going to be a very good player by the time he leaves Oklahoma. I think he's going to help us out this year. Rodney Anderson, who didn't play a lot last year - a running back who was hurt - so you could say he's kind of incoming. Got hurt the second game of his freshman year last year. Excited to see what he's capable of. Obviously, he has two guys ahead of him that are very talented, but he's also talented himself. I'm excited about what he's going to do. Nick Basquine, one of our receivers, he's going to play a lot. People haven't heard of him, he walked on to OU, and obviously I have respect for a walk-on like that that's put in the work. He's worked his butt off to get his body right and he's catching the ball well and making plays right now for us."